The annual MTV Movie Awards is a night usually reserved for pounds of fake tanned flesh on display, inappropriate use of blush and eye-poppin' cleavage (AKA Britney's green-bra-wearing, snake toting performance in 2001). But alas, this year the starlets somewhat surprisingly decided to underplay their chosen beauty "looks" and I for one really, really, really dug it. For the most part, Hollywood's A/B/C List went with decidedly understated makeup and hairstyles and this was the end result ...
Brooklyn Decker looking all windswept and carefree with her new-ish chop and minimal makeup. Way less Sports Illustrated model and a whole lot more stylish!
Reese Witherspoon rocking some super-duper flattering coppery/bronze eyeshadow that makes her baby blues positively POP. Want to emulate this look? Try M.A.C's Pigment in Copper Sparkle.
Blake Lively looking extremely babelish. I'm sorry but that's the best adjective to describe this kind of

perfectly bronzed, peach-lipped hotness. Also, I love that she slicked her hair back in this ultra chic pony, I adore a good pony.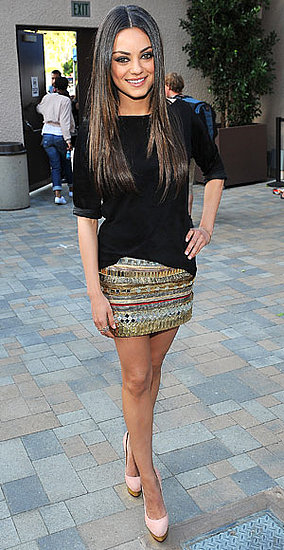 Mila Kunis – that hair!!! Sooo shiny I gotta put some sunglasses on in my room and look like one of those creeps that skulk around nightclubs, because it is just too sparkly and blinding. Ok dramatics aside, she is perfection to me. LOVE the embellished Balmain mini paired with a simple black top. She got it going on (cue finger snap) AND she got to grab JT's junk.
And then there are the people who didn't get it right ....
Come on Amanda Bynes, what were you thinking gal? The dry-looking blonde ropey extensions and tight dress combo went out a while back, even P. Hilton's over that look these days.
Jessica Szohr ... Hmmm at least she hasn't gone OTT on the makeup. I think this may not have looked quite so bad if she had done a cute, sleek high pony with a bright lip to make it more fresh and youthful – see I'm nothing if not constructive haha.
Leighton Meester – now technically there is nothing wrong with this. While the makeup looks quite heavy in comparison to the other fresh faced looks floating around, I actually rather enjoy the dark eye/nude lip combo on Blaire, sorry, Leighton. It's the hair that's bothering me, yes I like me some balayage but it just looks a bit straggly and not in a cool Erin Wasson way, but in a needs-a-mask-and-trim way. Ekkk.
What are your thoughts beauties?
Who had your favourite beauty look this year?